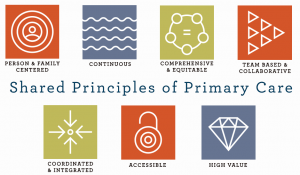 The Shared Principles describe seven important attributes of advanced primary care. They are designed to help move the United States toward a future of health care that is person-centered, team based, and aligned with the community. Realizing this ideal future of primary care requires a common vision among all stakeholders, with the goal of achieving better health, better care, and lower costs.
The process to develop the Shared Principles was co-led by Family Medicine for America's Health (FMAHealth) and the Patient Centered Primary Care Collaborative  in collaboration with individuals and organizations representing patients and families, clinicians, purchasers, researchers, health plans and others in the health care system.
They build on the  five key attributes of the PCMH (Person centred, accessible, comprehensive, coordinated with a focus on quality and safety) to describe ideal care in the health system as a whole.